SPOTLIGHTs Workshop: Holiday Light Installer
Start a Christmas lighting installation business
or expand your existing business
No SPOTLIGHT workshops currently scheduled.
Please view our Premium Workshops at Christmas Expo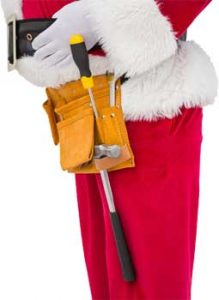 The 2-day Holiday Light Installer Business Workshop covers the following topics:
Estimating: Learn how to estimate from start to finish to assure your business realizes a profit and how and when to boost sales by suggesting design elements such as wreaths, greenery and additional lighting options.
Installation: Proper installation techniques mean a professional finish, less maintenance and happy clients. We'll give you the know-how that will set your work apart.
Maintenance: In this class, we cover the factors to help you decide specifically what maintenance means to your company.
Materials & Products: This class will help you understand the differences between commercial grade lights vs. big box store lights, LED vs. incandescent, quality, style and why you need to choose carefully before ever begin talking to your first customer.
Take Down & Storage: What goes up must come down… and then be packed away. Learn about timing, storage options and how to safely store your product for future use.
Marketing: You could be the best lighting installer around, but if no one knows about you, the phone won't be ringing. This class helps you to understand how to promote your business and what you need to do to make sure your installation calendar stays full.
How to Set Yourselves Apart from your Competition: Anyone can buy a few cases of lights and call themselves an installer. In this class, we'll discuss what you need to do to distinguish yourself as a professional, independent installer.
How to Make It a Year Round Business: Hanging Christmas lights is extremely lucrative for a few months out of the year, but what do you or your employees do the rest of the time? We'll discuss options and ideas to diversify your business to stay busy all year long.
The workshop is taught by Carrie Hazelip, co-owner of Mistletoe & Ivy in Indiana. She is a mother of three and a full time business woman. In 2008, Carrie left a lucrative position to join her husband's lawn mowing business, Emerald City. With the help and business expertise of Carrie, Emerald City grew into a thriving landscape company and spawned Mistletoe and Ivy, a year round lighting and decorating company.
---
What is included?
Two dedicated days of business classes, plus lunch
This workshop will teach you how to start your own independent Christmas light installation business. Classes are not affiliated with any franchises and do not require any franchise fees or membership fees.

Who should attend:
Established holiday lighting installers who wish to expand their business or network with other installers to share ideas and gain knowledge
Landscapers seeking an off-season business opportunity
Window washers looking for a way to generate income during the holiday season
Anyone interested in starting an independent holiday lighting installation business (no franchise association)
The holiday light installation business continues to grow each year. The workshop will help you to turn your slow winter downtime in to a busy and solid revenue stream.