ABC's The Great Christmas Light Fight 2016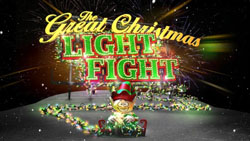 ABC's The Great Christmas Light Fight is casting now for 2016. If you've been watching the show, you've seen many of our Christmas Expo family compete and a few have even won the $50,000!
The producers of The Great Christmas Light Fight are looking right now for over the top displays for their 4th annual televised competition – 24 homes will be chosen to compete for a 1 in 4 chance to win $50,000 and the coveted trophy.
If you think you have what it takes, don't take down your Christmas decorations this year until you've taken a video of your display.
• Videos should not exceed 10 minutes
• Introduce your team on camera and then walk with the camera through your display
• Make sure everything can be seen and heard clearly – hold the camera steady and move it slowly
• Include wide shots of your entire display and close ups of the details that make it special
• State the names, ages of all your teammates and name your hometown in your video
Once you have your video, go to www.lightfightcasting.com to submit the video and apply to be on the show. You only have a few weeks before the first round of casting ends so don't delay, apply now!