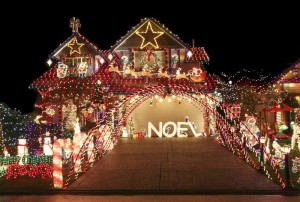 Christmas Expo is owned and produced by sisters, Joyce Perhac with ProShow, Inc., an event planning company based in Pittsburgh, PA and Janice Blasko, owner of ChristmasLightFinder.com. The duo have collaborated on numerous events and projects over the years and both have "that crazy lighting enthusiast" passion. Janice has attended PLUS, as well as mini-PLUS events and decorates to the nines for Halloween and Christmas. Joyce's home is also the only one in her neighborhood with an outdoor display.
It all began in 1996
Christmas Expo got its start in 1996 when Chuck Smith started the PlanetChristmas.com website to give the decorating community from around the world eager a place to learn and share information. The site's popularity led to the first PlanetChristmas Lights Up Symposium (PLUS) event in 2003. This event gave lighting enthusiasts a place to meet each other and take decorating classes from the experts. Over the years, the focus has continued to be on creating great Christmas displays both indoors and out and the name was changed to Christmas Expo.
---
We're dedicated to creating a great event!
---
With the success of past events and the potential growth for the future, Chuck searched for a new owner for Christmas Expo. He looked for someone with experience in event management who also had a passion for the holiday experience. In 2012, he found that with Joyce and Janice. The two are are committed to making this event the best it can be. And even though management has changed, our inbox is always open for ideas, opinions or thoughts. This event will continue to be about YOU and we're not afraid to hear the good and the bad.
Why is this show in the summer?
Most over-the-top decorators will tell you that they start thinking about Halloween and Christmas mid-summer, if not earlier! In addition, holiday vendors have usually placed their seasonal orders by mid-summer and are ready to sell all those new products.