Light-O-Rama Immersion Premium Workshop

Light-O-Rama (LOR) is a popular light show animation equipment and software that allows everyone from homeowners to commercial decorators to create displays where the lights dance to music.
Light-O-Rama is incredibly versatile and can be used by all skill levels, whether a beginner or experienced decorator.
The "immersion" workshops at Christmas Expo are unique and walk you through the learning process step-by-step utilizing hands-on instruction and individualized assistance.
All your questions are answered and you will leave knowing how to build an animated display using the LOR software, as well as how to connect your lights and controllers and launch an exciting display.
Gain new ideas and design concepts for your display.
---
Day 1: The BASICS (1 day workshop)
From the beginning… display design, LOR hardware, and software basics including pre-programmed sequences.
This portion of the class will teach you about display design, the technologies and controllers available for your display, how to select which controllers to use, how to use and troubleshoot those controllers, and how to test items in your display using both hardware and software (including the LOR phone app!).
After those basics are covered we will take the time to ensure you not only get your controllers working but that you understand how everything works together. We want to make sure you can set up controllers and lights successfully once you get back to your displays. Most of the work of creating animated displays is spent in programming/creating sequences. We will review the various functions of the LOR software suite and how and when each function should be used.
We will then move to the fundamentals of setting up a display in software (i.e. create a preview) and learn how to control individual items or groups of items in your display. The class will also spend time creating basic sequences, learning how to apply different lighting and motion effects within those sequences, and how to utilize pre-programmed sequences in your display.

---
Day 2 & 3: ADVANCED (2 day workshop)
Software I: After a review of topics presented during Day 1 and answering questions concerning those topics we will again learn how to use the LOR Sequencer software to create a preview of your display, including using groups and why they are important.
We will then teach you how to program media-synchronized sequences as well as share tips for how to program faster and more efficiently. We will also cover how to use timings and various effects so the display sends a message or tells a story with the performance. This includes learning how, when, and why to use other software such as Audacity and MP3Gain for audio editing. We will also learn about the process of creating shows from sequences which have already been programmed, running shows on different platforms/hardware, and the advantages/disadvantages of each.
Software II and Advanced Topics: We will again review concepts presented during days 1 and 2 and answer questions concerning previously covered topics. This includes the process of creating shows from sequences which have already been programmed and importing sequences from older versions of the LOR software. This is the day where we go deep into topics which you may or may not use in your display. The list includes a discussion about how pixels work and how to repair pixel strings, various pixel controllers available and how each of them work with LOR, bandwidth available via serial and ethernet and why understanding this is important, using Falcon Pi Player with LOR, and many other topics.
Singing face sequencing will be taught with the instructor showing you how to program them faster. This includes all three types of singing faces – faces with AC string lights, faces with grouped pixels, and faces displayed on a grid/matrix. We will also demonstrate LOR controlling various 3rd party controllers and lights, including P5/P10 panels.
---
Class Information
Computer: We encourage you to bring a laptop computer with the LOR software already installed and registered so you can practice right in class (hands-on learning).
Software: We recommend you purchase the Pro license level of the Light-O-Rama™ S6 software suite if possible and have it pre-installed and license registered on your computer. Light-O-Rama controllers may be available so you can test your work during class (contact Holiday Technologies for additional information).
Once you register to attend we will communicate with you via e-mail to identify what you need to bring to the class.
Contact us at sales@holidaytechnologies.com if you wish to purchase the software or have any questions about the class.
---
Drew Hickman, Holiday Technologies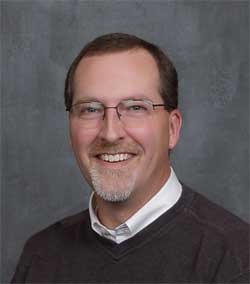 Drew Hickman was an early pioneer in animation, creating the very first commercially available hardware (ChristmasCave) and software (Dasher) products for music-synchronized displays. Since those early days in his garage, Drew has gone on to help drive advances in the lighting and animation field and has helped an untold number of lighting enthusiasts create displays. He has also designed impressive home and commercial displays through his business, Holiday Technologies. Holiday Technologies is an official dealer of Light-O-Rama products and the official LOR training partner.
Drew has worked on all types of displays, large and small, commercial and residential. He has worked with everything from C9 incandescent lights to the latest pixel props and is sure to share some of his more interesting experiences of being in this business.
This is an LOR education workshop on using Light-O-Rama products.
This workshop is taught by an authorized LOR partner company.