The Business of Christmas Decorating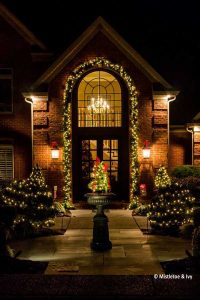 This full-day workshop is taught by a successful, independent installation company owner. Carrie Hazelip is the co-owner of Mistletoe and Ivy. She is a mother of three and a full time business woman. In 2008, Carrie left a lucrative position to join her husband's lawn mowing business, Emerald City. With the help and business expertise of Carrie, Emerald City grew into a thriving landscape company and spawned Mistletoe and Ivy, a year round lighting and decorating company. www.emeraldcitylawn.com.
This workshop is directed to independent installers and will cover:
Estimating: Learn how to estimate from start to finish to make a profit. Learn how to casually upsell products for more profit.
Installation and Maintenance: In this class, you'll learn proper installation techniques to ensure less maintenance. We'll cover the factors to help you decide specifically what maintenance means to your company.
Materials and Products: This class will help you understand the differences between commercial grade lights vs. big box store, LED vs. incandescent and why you need to choose carefully before ever talking to your first customer.
How to Make It a Year-Round Business: The business of hanging Christmas lights is lucrative for a few months out of the year, but what do you do with your employees the other 9 months? We'll discuss options and ideas to diversify your business and keep your employees busy all year long.
Open Discussion: A true open discussion session, you can pick a Pro's brain with all your questions, and also share your ideas and what works for you with other attendees. Student participation in the question/answer session is encouraged.
The workshop is Friday, July 19, 2019 at Christmas Expo in Daytona Beach, FL. Attendees may register for Friday only, or may purchase a multi-day pass to attend additional decorating classes.